Scaffolding for a successful inquiry-based learning experience
19 June 2012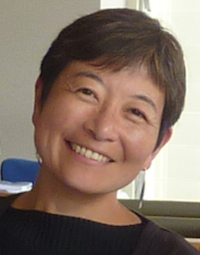 Kathy Takayama
Join us on June 19th when Kathy Takayama of the Sheridan Center for Teaching and Learning and Department of Molecular Biology, Cell Biology and Biochemistry, Brown University presents Scaffolding for a successful inquiry-based learning experience.
Kathy Takayama holds a B.S. in Biology from MIT, and a Ph.D. in Biochemistry and Molecular Biology from UMDNJ-Robert Wood Johnson Medical School (formerly Rutgers Medical School). She was a National Institutes of Health Postdoctoral Fellow in the Department of Biochemistry at the University of Wisconsin-Madison. In 1994 she moved down under to the University of New South Wales (UNSW) in Sydney, Australia as an Australian Research Council Senior Research Associate. Her research interests have focused on how RNA processing mechanisms control the regulation of gene expression in a wide variety of biological systems, including frogs (Xenopus), viruses, and bacteria. Kathy became a faculty member of the School of Biotechnology and Biomolecular Sciences at UNSW in 2001, where she continued to investigate how RNA processing controlled bacterial stress responses; at the same time, she developed an active research program in science education and the scholarship of teaching and learning (SoTL). In 2007, she joined the Sheridan Center as the Associate Director for Life & Physical Sciences, and was appointed Director of the Center in 2010. Kathy has received many awards and recognition for her work and has delivered keynotes on her work in visualizations and learning in the sciences; collaborative online communities, the integration of art + science in teaching; and interdisciplinary pedagogies in the Scholarship of Teaching and Learning.
Abstract: How does one teach students to experientially understand the process of inquiry? This presentation explores whether we are teaching students to engage in inquiry in the same way we engage in our own scholarly research. The creation of successful collaborative learning communities stems from a crucial starting point: 'thinking about thinking', whereby learning is enhanced through reflection and analysis of the inquiry process. We will discuss inclusive approaches for scaffolding inquiry learning, and alignment of assessment strategies for collaborative inquiry-based learning. The emphasis on research-informed learning and teaching as an iterative model is relevant not only to undergraduate courses, but can serve as a mentorship model for research supervisors.
Time: 12pm-1pm
Location: Slade Lecture Theatre (Rm 217), School of Physics
Cost: Free